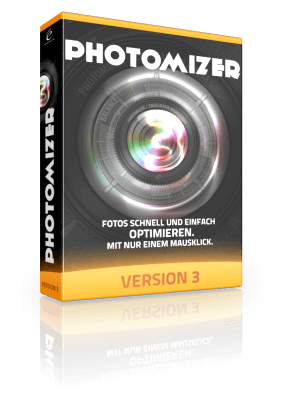 Optimize your photos automatically with one single click – without prior knowledge!
Photomizer 3 Premium includes:
OPTIMIZE PACKAGE: Radiant photos, sharp contours and natural colors: The optimization software makes all this in a single operation. No more bloom. Look forward to undiscovered details in your photos!
REPAIR PACKAGE: Removes noise and ensures that the actual motives emerge. You can save even the most difficult original photos with this automated picture editing.
RESIZE PACKAGE: On the basis of procedures such as Spline or Lanszos, Photomizer 3 increases the original picture according to the template to magnifications of up to 32 times normal size- without any pixelated effects.
RETRO PACKAGE: Retro is hip! Thanks to this nostalgic package, Photomizer 3 sends each image in an instant on a time travel into the past. Different retro effects create pure nostalgia.
TILT-SHIFT PACKAGE: Tilt shift art is one of the premier classes of photography. From a bird's eye view, motifs from the real world appear like a cosmos of toys.
Our photo optimization has been strongly improved; among other things, the so-called halo-effects around objects have been removed. It's faster than ever before: Our optimization is now up to 12 times faster. Of course, we take the support of Windows 10 for granted. Photomizer 3 is compatible with Windows 10, Windows 8 and Windows 7!
Furthermore, the operation of the software is much easier now and supports quite a lot additional input formats: jpg, jpeg, tif, tiff, gif, bmp, png, jxr, hdp, wdp, ico, raw, orf, 3fr, raf, nrw, dng, arw, nef, x3f, srw, pef, rw2, mrw, mdc, mef, dcr, erf, crw, mos, cr2 and sr2.