HMA VPN v5
Multidevice for 5 PCs, Android Smartphones & Tablets Now with Amazing Discount!
The rock-solid VPN at a killer price
Brand new version 5
Worry-free for a whole year
Multidevice for use on up to 5 devices: PCs, smartphones and tablets at the same time
For Windows, Android, Mac and iOS
Complete online privacy
Maximum speed
Optimized for gamers and P2P
Now for Only 59.99 € Instead of 131.88 €
Military-Level Security
HMA VPN v5 uses the same encryption standards as the military: 256-bit AES. Sounds nerdy? It is! Security pros would still mention this: on Windows and Android, the implementation runs on the OpenVPN protocol in Gallois Counter Mode (AES-256-GCM) with 4096-bit RSA keys for the purpose of handshakes and authentication via SHA256. For Mac and iOS, the implementation runs on Apple's own stack via IKEv2/IPsec. For you as the end user, this means this VPN couldn't be any more secure. Easy as pie.
Here's What HMA VPN v5 Offers
Maximum performance without logging: not even HMA records your IP address, activities or data volumes.
Built-in protection against IpV4, IpV5 or DNS leaks. This means protection against malware and phishing sites.
You can define if and which apps should start automatically via HMA VPN v5
Full functionality over wired connection, Wi-Fi and mobile networks
Protection against DDoS attacks
Hackers and data thieves don't stand a chance
Act Fast: Only 59.99 € Instead of 131.88 €
Word-Class Support with a Fan Base!
Even though it's child's play, sometimes there are still questions. These questions get answered! Here's what HMA says about itself: "No kidding! Our support is not only world-famous, it's the heart of HMA. Find out why everyone loves it – and why you will love it too." Naturally, premium support is included in the annual license.
Safe on the Road and Fast as an Arrow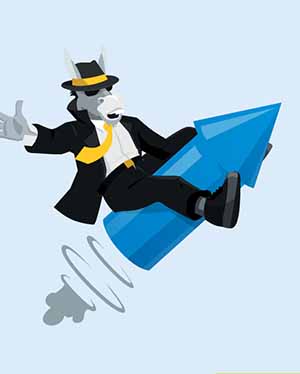 Lightning Connect ensures that the fastest server at the site is always available automatically.
Primary sites have servers with a throughput of 20 Gbps. At most other locations, the throughput is up to 10 Gbps.
If you want to know exactly, you can do an instant speed test of the selected server yourself.
HMA VPN v5 offers top speed at 290 locations in 190 countries.
Now for 59.99 € (Instead of 131.88)
Optimized for P2P
Anyone who works with torrents knows the dangers of P2P all too well. That's exactly why HMA VPN v5's servers are optimized for P2P. Your IP address always remains hidden. For you as a user, this means the best possible protection with minimal loss of speed.
Optimized for Gamers
A lot of gamers complain about increasing hurdles due to geoblocking or different sales strategies of game manufacturers. With HMA VPN v5 you experience a new freedom. You decide on which servers you want to play or when you can load which game at which price.
Perfect for Streaming
Many free streaming providers and media libraries restrict access by country. Using an appropriate server, you can watch any content easily without any problems. All you need is HMA VPN v5.
One License for Simultaneous Connection for up to 5 Devices
Buy one license and install HMA VPN v5 on as many devices as you want. You can connect up to 5 devices at the same time: Windows, Mac, Android and iOS. And you can do that for a whole year!
It Doesn't Get Any Better: Now for 59.99 Euros Instead of 131.88 MSRP