Television with 4k resolution? This already elicits a tired smile from some people today. The world of electronics and gadgets seems to offer hardly any sensations in some areas. Even though there will of course be many further developments to come, we are in fact already damn far behind the year 2000.
The situation is quite different in the smart home sector: Here we can expect innovations in the near future that will certainly inspire many people and also make life easier for us. Smart Home, for example, has long been a mainstay of CES in Las Vegas (Link: https://www.ces.tech). And in the coming years, the topic will definitely overtake some other areas of consumer electronics.
Smart Home: Data leaks are also part of it
As in all areas that play with Big Data, data leaks can of course never be completely ruled out on the still young Smart Home playground. Sure, that's a bit embarrassing for the respective provider. Rule of thumb: the bigger or more controversial the company, the greater the malice. Even in individual cases.
For example, recently, when an Amazon customer simply wanted to find out what data the trading platform had stored about him.
This is quite simple: If you follow this link (https://www.amazon.com/hz/mycd/myx/#/home/alexaPrivacy/home), for example, you can call up directly what your Alexa has recorded.
In the case mentioned here, the user simply wanted to have a general look at what Amazon had stored about him. And promptly he also got a data package with Alexa language entries. Stupid: This user had never used Alexa before. A real newbie when it comes to Smart Home. So the data came from someone else. Oh oh…
In no time at all a consumer profile has been created
An unfortunate isolated case, as Amazon was able to demonstrate in the post-clearance period. But still a nice example of how Big Data and our privacy are increasingly merging in the cloud. Of course, some will argue: "Hey, I don't have anything to hide! That may be true – and yet it could at least lead to tiny distortions in one's own consumer profile if the 16-year-old offspring occasionally searches unattended for abstruse products with other inquisitive peers… Curiosity 🙂
Well, perhaps that's how interesting profiles are created about people who prefer organic products, psychological family guides, sexy lingerie and freely available weapons. More questions?
You can delete Alexa's records yourself
Now and then it seems to be very useful to check your own data at all possible platforms at the beginning of Smart Home applications and to delete them if necessary. Just like the language entries for Alexa. Because that's possible: also under this link to Amazon (https://www.amazon.com/hz/mycd/myx/#/home/alexaPrivacy/home).
Which, by the way, is NOT intended to pillory Amazon! This example only serves to illustrate what remains of us between real life and cloud.
And – you don't have to be a clairvoyant to be there – it will be stored much more in the future. Smart Home, if you want to describe it vividly, is still in its baby socks. A case especially for the upper ten thousand who want to control their alarm system at their own villa via app? By no means!
In a few years, it will be completely normal for the majority of the population of our industrial nations worldwide to control objects on call or with a smartphone: from multi-room hifi to household appliances to roller shutter control.
Smart Home brings even more applications – with and without Alexa
And these applications will learn pretty quickly. Monday, Wednesday and Thursday the darkening starts at 8 pm, Tuesday always at 10 pm and the rest of the week at 7 pm? After one month, the control system will be happy to do this automatically. Let's be honest: as a burglar wouldn't you like to hack into the system, make an appointment for a visit on Tuesday around 7.30 p.m. and look around undisturbed?
Where cloud-based technology works, people will always be out to exploit it for their own interests. This is exactly how the optimization of advertisements in the Internet browser works, in order to give us – as it is so beautifully put – an optimally personalized experience. Of course, it's all about marketing.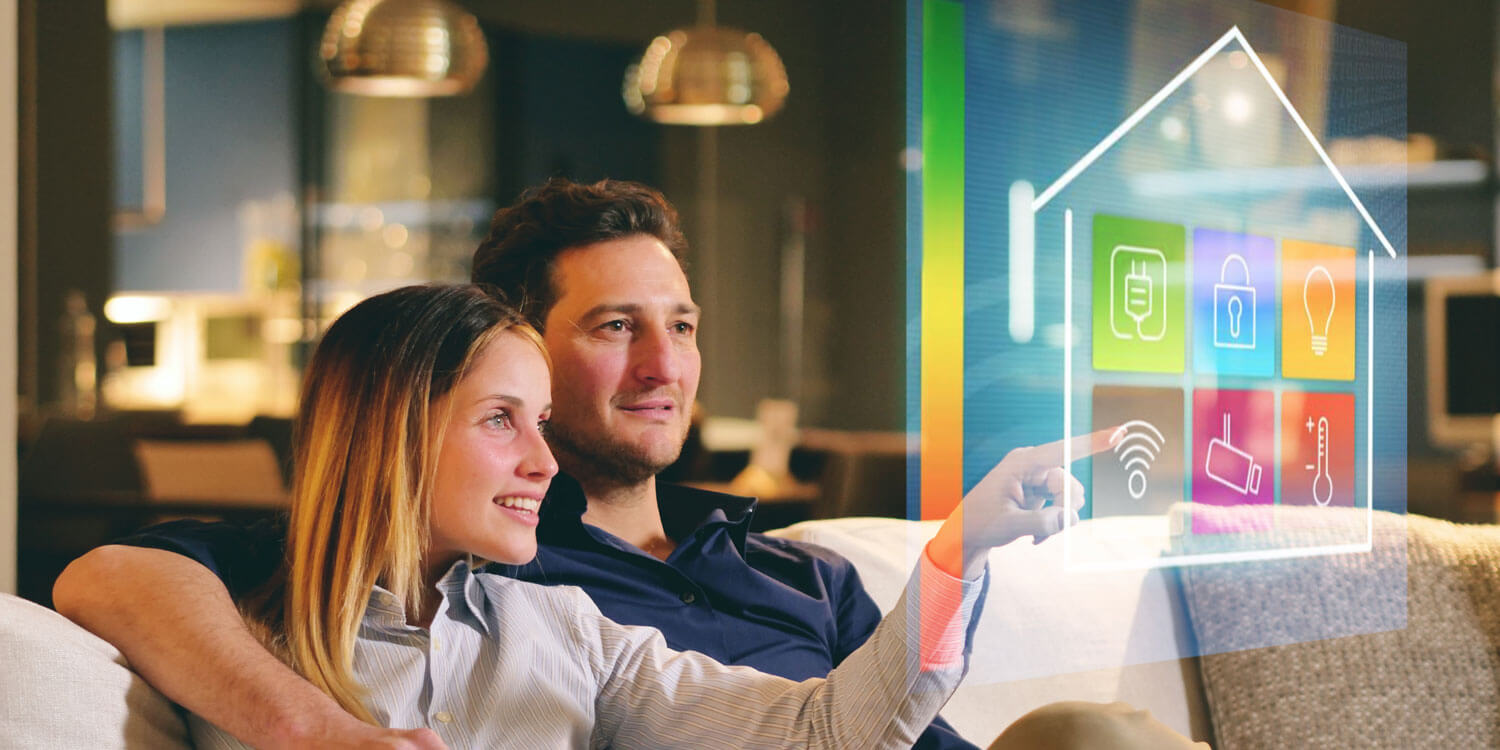 Internet of Things – the Smart Home of the future communicates everything with everything
Of course there will be a lot of people who find it pleasant when the coffee machine, which is connected to the Internet of Things, sends a short ping to the smartphone to order 100 new coffee capsules. And many will be really enraptured when the fridge immediately notices that you probably need milk after all. So cool! At some point it will be quite normal for our kitchen appliances to simply calculate on the basis of algorithms that there is a parallel in our household between coffee and milk consumption.
And finally, it will be normal in our Smart Home when the alarm clock reminds us of Monday morning and pulls up the shutters at 7 am, starts our favourite playlist from the streaming service and probably already prepares a delicious latte. While we don't have to be annoyed anymore that we didn't set this alarm clock.
Data deletion? Why not!
And if the shopping list of coffee and milk is then also questioned whether one would like to add vodka and edible string thongs? It's probably time to have an informative talk with the next generation. And maybe it's time to clean up all the data garbage that has accumulated in the cloud. But even that will certainly soon be possible on call – as befits a sensible smart home.