AVG TuneUp Utilities 2021 now available for PC, MAC und Android
TuneUp Utilities Special Offer!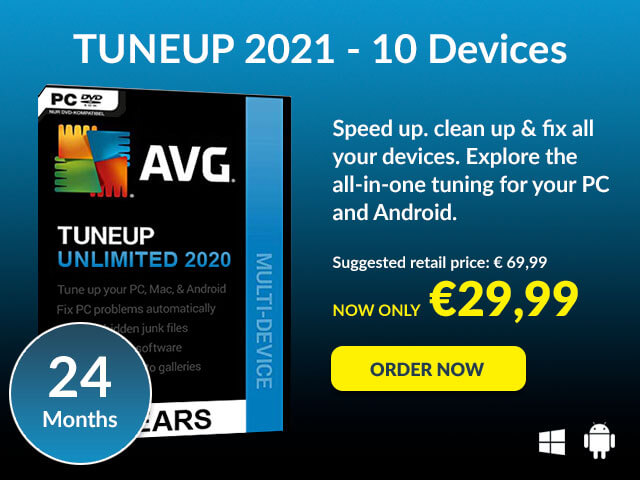 Buy now for only € 29.99 instead € 69.99
Available now – the latest version of the most popular tuning software in Germany: AVG TuneUp Utilities 2021
In addition to the numerous optimized and enhanced tuning functions, this version also comes with two completely new features: Drive Defrag & SSD optimization. These features help you keep your HDDs as quick as possible and your SSDs as durable as possible.
You can download the software from us immediately after receipt of your payment. In just a couple of minutes, you can start tuning, tidying up, and cleaning your computer (Windows 10, 8.1, and 7), Mac (from macOS X 10.10 Yosemite and newer ), and mobile devices (Android 2.2. or higher).
AVG PC TuneUp Utilities 2021 Multi-Device
This means for up to 10 devices in your household:
more speed
more storage space
longer battery life
fewer crashes
everything clean
longer lasting SSDs
more performant hard disks
AVG TuneUp Utilities 2021 for 10 devices enables you to unleash your PC's full potential. Active applications are given priority and the hard disk is thoroughly cleaned up – removing abandoned junk data from more than 230 applications and annoying duplicate files.
One license for 10 devices in your household!
You'll find the clue immediately in the product name: AVG PC TuneUp Utilities 2021 Multi-Device. This software is for a lot of devices used by yourself or your family – for Windows 10, 8 and 7, macOS and Android.
Strictly speaking, TuneUp Utilities always comes with just one license for a year. But we're adding an extra year on top for free. So, now you will also be entitled to use AVG PC TuneUp Utilities 2022 for free.
You can look forward to having a smoothly running PC, a better overview of your hard disk, and lots of extra benefits from more than 230 smart tools. TuneUp Utilities 2021 keeps your new PC in good shape. And after using the program, older computers even run as if they were brand new.
You can use TuneUp Utilities 2021 with just ONE license to optimize, speed up, and clean up to ten devices, which also includes ALL device types, such as PCs, MACs, smartphones, and tablets. This is all available as a free bonus with your license.
You can download the software from us immediately after placing your order. Get started tuning your PC in just a couple of minutes. Cleaning and tidy up your devices to your heart's content.
Buy now! Only 29.99 EUR instead of 69.99 EUR!
Overview of the key tuning tools in the new AVG TuneUp Utilities 2021:
>> Easy 1-click maintenance tasks
Without knowing anything about tuning, you tidy up your computer with just a single click.
No tuning knowledge needed to speed up your PC thanks to 1-Click optimization
Clean your browser(s)
Maintain your registry and fix potential problems
Optimize the hard disk and energy settings
Remove dangerous junk data
Clean your whole system
>> Intelligent tuning and cleaning features
Speed up active programs by switching off power-hungry applications running in the background, which you don't need
Increase protection against data loss if your PC crashes
Find and fix typical computer errors using powerful diagnostic tools
Restore data that you have accidentally deleted
>> Suitable for smartphones and tablets too
You can use AVG TuneUp Utilities 2021 to optimize, speed up, and clean not only PCs, but also your smartphones and tablets running on the Android operating system.
For Windows 10, 8.1 and 7. AVG PC TuneUp Utilities 2021 cleans, speeds up, and boosts your PC in next to no time.
For Android 2.2 or higher: AVG Cleaner PRO for Android speeds up your phone, increases battery life, removes junk data (e.g. corrupted photos), and frees up space.
For Windows 10, 8.1 and 7. AVG PC TuneUp Utilities 2021 cleans, speeds up, and boosts your PC in next to no time.
For Android 2.2 or higher: AVG Cleaner PRO for Android speeds up your phone, increases battery life, removes junk data (e.g. corrupted photos), and frees up space.
>> NEW in 2021: Drive Defragmentation and SSD optimization
You won't believe but even today Windows still fragments the data that is written to your hard drive. For a SSD that is no challenge as the access to each cell of a SSD (Solid State Drive) takes the same time so fragmentation is no issue. On conventional hard drives this is a big issue though as the more fragmented your data gets the longer it takes for a program to access the data. This is why it actual and felt speed of hard drives are so slow sometimes.
The challenge for SSDs is different but fret not! TuneUp comes to the rescue as well keeping your SSDs in top shape. Thanks to the TRIM instruction deleted data (on an operating system level) that still resides on your SSD is now finally deleted physically. That makes writing to these cells faster and extends the lifespan of your SSDs.
>> NEW in 2020: Software Updater
This tool allows you to keep key software applications, i.e. programs that you frequently use, up to date in terms of performance and security. It runs automatically. So, there's nothing for you to worry about.
Take advantage of this offer and enjoy the benefits of what is no doubt the most successful tuning tool in Germany.
AVG PC TuneUp Utilities 2021 unleashes your Windows PC's entire potential by giving priority to active applications. This means that processes are speeded up and problems resolved. The smartest hard disk-cleaning process yet thoroughly cleans up your hard disk to ensure that junk data from more than 230 applications are removed, duplicate files are got rid of, and your browser can operate without any problems.
You can use Economy or Flight mode with the press of a button to extend your Windows notebook's battery life. As a result, your devices will always remain charged for longer when you're on your travels. The software also includes the Cleaner for Android and the MAC tools.
Grab this opportunity now and save yourself some money!
AVG PC TuneUp Utilities 2021 for ten devices is available via download for just EUR 29.99 instead of EUR 69.99.
TuneUp Utilities: Incredibly robust tuning tools.
More power and a more stable performance
More storage space
No unwanted duplicate files
Automatic PC maintenance
Longer battery life
Significantly faster PC boot and shutdown
Any PC problems resolved in a couple of clicks
Rapid program shutdown
Extends battery life and removes junk data, as well as poor, blurred, and duplicate photos, to free up more storage space
Removes junk files (e.g. old downloads)
Protects and optimizes your devices via a single screen
Protects up to 10 of your family's devices!
This is what Tuning-Tools AVG PC TuneUp Utilities 2021 offers you – alongside lots of further advanced and enhanced optimization tools.
Optimize Windows, as well as macOS and Android of course, securely and reliably.
Exclusive benefit of a license for AVG PC TuneUp Utilities 2021 via download through us.
If you purchase AVG PC TuneUp Utilities 2021 via the link mentioned below, the license is valid not just for one year, but for a full 2 years. During this period, your license will include all upcoming software updates. This will ensure that you will receive the features of the next generation. The period of use starts from the date you activate the program in your AVG account.
A link with two-fold added value: you can save on the price and get to use AVG PC TuneUp for twice as long. An extra year as a free bonus!
Buy now! Only 29.99 EUR instead of 69.99 EUR!
AVG PC TuneUp Utilities 2021 for 10 Devices (Multidevice)
Why use Tuning Utilities?
Lots of remnants that aren't used anymore accumulate over time on a computer (e.g. under Windows 10). This includes data in the registry, abandoned data that are generated while using programs, downloads, remnants of programs previously installed, etc. It basically mirrors what happens in our own house. So, every now and then, we need to clean it up… TuneUp Utilities is about "Optimizing Windows made simple". Optimizing it for anyone and everyone.
How do I download TuneUp Utilities 2021 to my PC?
If you buy the software from us, you will be given access to an AVG members area via the Internet. This is where you register the serial number that you have received from us and you will then receive a download link straightaway, giving you access to the full version for all operating systems.
How reliable is TuneUp Utilities 2021?
TuneUp Utilities has been around since 1997 and has been continually further developed. The 2013, 2014, and 2015 versions of the program, as well as TuneUp 2017, were other milestones in its development. So, this software has been developed on the back of more than 20 years' experience. The 2020 version might have been the best-selling version of TuneUp ever. The new version, AVG PC TuneUp Utilities 2021, is well on its way to surpassing the 2018 and 2020 versions!
Are there any alternatives to TuneUp?
We think that there aren't any. We have tested lots of tuning programs, and AVG TuneUp Utilities is clearly the best software in terms of optimization. TuneUp Utilities is the eternal test winner in our in-house test lab.
What is TuneUp Utilities 2021 and what's it's history?
The TuneUp Utilities program first appeared on the market as TuneUp 97 for Windows, and was developed by Tibor Schiemann and Christoph Laumann. In those days, just as now, optimizing Windows was a topical issue. S.A.D in Germany was chosen at that time as a sales partner, and TuneUp has become over time the benchmark for tuning utilities. TuneUp has won over the years quite a few benchmarking tests, including some carried out in the Chip or ComputerBild magazine, and has regularly featured among the top 3 best-selling products, not only for optimization. Since 2011, the software has belonged to AVG Technologies. The 2021 version is now the successor to AVG PC TuneUp Utilities 2020. And as was already mentioned, we're offering another year of updates as a bonus. Optimization made simple! You can find out more information on Wikipedia.
Buy now! Only 29.99 EUR instead of 69.99 EUR!
TuneUp, PC TuneUp or TuneUp Utilities?
TuneUp had lots of names in the past. TuneUp with or without AVG, AVG PC TuneUp, TuneUp Utilities and a whole lot more. All these basically stand for the same: The best tuning tool on the market, at least in our humble opinion!
To which operating systems is TuneUp Utilities 2021 compatible?
TuneUp Utilities 2021 is compatible with Windows 7, Windows 8.1 and Windows 10 – both as 32- and 64-bit versions. In addition, there are also tools that are offered starting with Android 2.2 and a version that is compatible with macOS starting from 10.10 Yosemite.
Version 2018 was also compatible with Windows XP and Windows Vista. However, support for these outdated operating systems has been removed since TuneUp Utilities 2019.
In what languages is TuneUp available?
TuneUp for Windows is available in the following languages: Chinese (traditional and simplified), Czech, Danish, Dutch, English, French, German Indonesian, Italian, Japanese, Korean, Malaii, Norwegian, Polish, Portuguese (Brazil and Portugal), Russian, Swedish, Slowenian, Spanish and Turkish.