Pubs, cinemas, museums, schools and restaurants got closed. Visits to parents, children, friends and relatives are no longer permitted for the time being, and for many businesses there is hardly anything left to do from the home office. What's worse, schools are closed until further notice, which means your bored children are always at home.
The coronavirus (COVID-19) has completely wrecked the day-to-day lives of many people around the world. Not only is it putting in danger our physical health, but it's also affecting people's mental health. Only a few weeks ago, we had too little time for anything, but now many households are bored – time passes by so slowly that the clock hands seem to stand still. Not all families are lucky enough to have a house and their own garden to enjoy. So, some watch Netflix non-stop, others spend hours on social media, and yearn for something fun and useful to do.
To stop you from getting bored to death being stuck at home, we'll give you a few digital tips to help you to make the most of your time during Coronavirus Boredom. These tools will help you to handle digital tasks for which you now have enough time. These actionable tips are for you and your whole family, including your bored children, while you're online or offline during the COVID-19 quarantine.
Actionable tip against corona boredom #1: Digitize your video and music collection
Is your whole wall still covered by shelves with CDs and DVDs that you always wanted to digitize and convert to mp3s or mp4s?
Are you still storing VHS and CDs with footage of you and your children in the basement?
Then now is the ideal time to complete this project, while the virus is forcing you to stay home. With the MyFormatConverter tool, you can rip all your audio and video files and save them in the size and format of your choice. You can easily put all your movies and music CDs on a hard drive, create space on the shelf and have all your music ready to play on your PC at any time. The best thing about it is that the software automatically labels well-known songs if you are online and downloads cover artwork from the Web.
Click here to find out more about MyFormatConverter, a multimedia tool that allows you to digitize CDs and DVDs, convert media files, edit video, audio and image files, and much more. This program has been one of our most popular products for many years. You can't go wrong with it!
Actionable tip during Corona Boredom: Numerous options, simple operation – that's what MyFormatConverter Premium offers.
If your content ripping is limited to audio CDs, you can also use our free tool called freeTunes 4. You will find it on a page where we've put together several free offers and full versions for you.
Actionable tip against Corona Boredom #2: Build up your own film and music collection
You have now digitized your music and video collections and prepared them for the next movie night at home. But are a few evergreens still missing? Then simply download them to your PC and add songs and movies into your new digital archive. Sure, you can listen to everything online at any time. Watching movies is way better than being bored!
Your children's generation probably doesn't even bother downloading anything. But at some point COVID-19 will be history, the restrictions on access and contact will end and then…
… then you'll have your favorite music at hand for your smartphone, your car sound system or for all those places and holiday destinations where you may not have unlimited Internet access but will have all the media content you need. Trust us, we've been on vacation and felt dumb for not having our favorite stuff downloaded to our phones.
Here's how you can get your best-offs from all over the world from the Web: with MovieJack. This software helps you to implement COVID-19 actionable tip #2. MovieJack is designed purely for private users, which makes it completely legal to save music and movies from sites like YouTube to your computer for personal use. Click here to find out more about MovieJack, a powerful music and video downloader.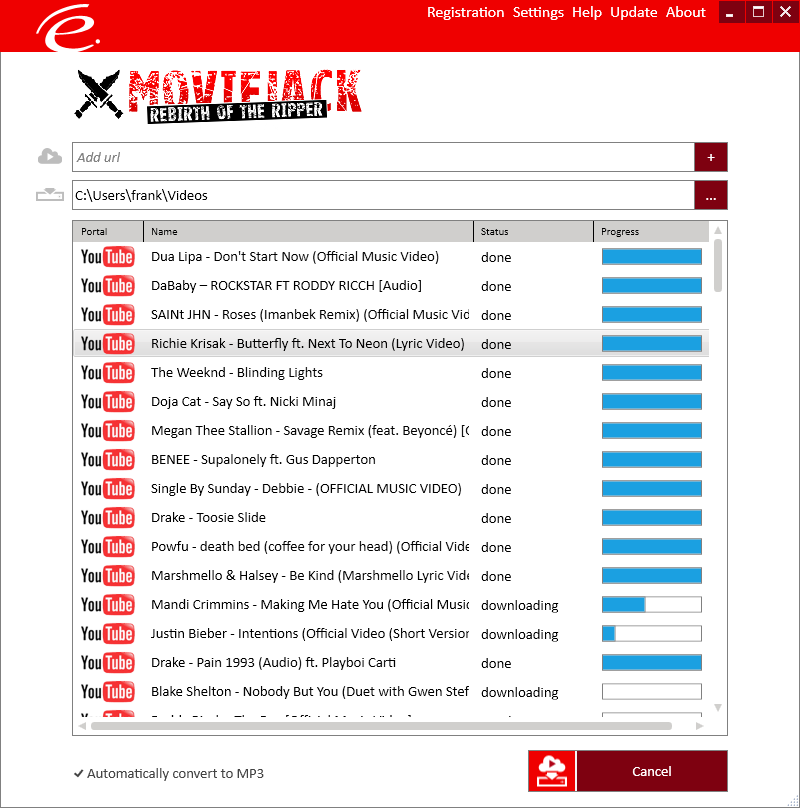 Actionable tip during Corona Boredom: Use MovieJack to download all your favorite songs from YouTube to your hard drive with just a few clicks.
Actionable tip against Corona Boredom #3: Convert old 2D movies to 3D
After you have digitized your video collection and even expanded it with the help of MovieJack, why not convert 2D movies to 3D? Luckily, there is special software that does the conversion to 3D with just a few mouse clicks. If not during the quarantine, then when?
For converting 2D to 3D, we once again recommend MyFormatConverter, which masters all current 3D processes by using anaglyph, shutter and polarization techniques. Note: the 2D to 3D functions are only included in the premium version of the software.
We also offer a somewhat more limited, but free alternative – Makeme 3D. With this tool, you can also easily put this tip into practice during the lockdown. You will find the software on the page with free offers and full versions.
Actionable tip against Corona Boredom #4: Sort out and optimize photos
Organizing your digital pictures, which are usually scattered across various devices, smartphones and your digital camera, is a task of half a lifetime. Here's an actionable tip for parents and their children that will help to tackle boredom during the coronavirus.
There are numerous programs that help you to find and delete duplicate photos from your hard drives and other storage media (check out Duplicate Photo Cleaner – it's the best option for Windows, smartphones and Macs), there are also a lot of tools that make it easy to beautify and optimize all your photos.
The main features of these programs are:
Contrast improvement
Removing image noise
Getting rid of red eyes
Color adjustments including light/dark correction
And lots more
This can be done manually, i.e. you can optimize image-by-image, or you can use fully automatic optimization algorithms that process all photos in a batch.
Most likely, you will now have the time and the inspiration to optimize photos one by one in order to get the most out of the optimization process. It takes longer, but it's an exciting activity that's guaranteed to bring back happy memories for the whole family. The results will be perfect for each image – they'll have a pro look and feel once you've finished.
Either way, take a look at Photomizer, our tool for automatic image enhancement! It's guaranteed to work magic on your photos.
We also offer two free alternatives, Simply Good Pictures 4 and Photomizer Retro, which you can find on our free full versions page.
Meaningful Activities
Although it becomes increasingly difficult to spend time indoors or remain in self-imposed quarantine as the weather gets warmer, these tools give you several ways to keep yourself sensibly occupied during the COVID-19 restrictive measures. You'll finally be able to take care of unfinished PC tasks.
We hope you will continue to enjoy these ideas even after the end of the lockdown and social distancing measures.
Naturally, in addition to these digital tips, there are the classics among actionable tips against COVID-19 Boredom.
For example, you can:
Read new books
Subscribe to Netflix or Amazon Prime
Learn a new language
Cook something tasty for your loved one
Rearrange the furniture
Try out Yoga
Do crafts with the kids in a creative way
Find the time to chat live with friends
Do small and easy exercises every day to keep fit
Stay safe and healthy!